Surfpay features
Turn your smartphone into a
payment terminal
Surfpay transforms your device into an app-only payment terminal with the new Tap on Phone technology. Accept contactless card payments, add other payment methods, and get full insight into your sales, everything at your fingertips with Surfpay
The Payments
Accept your customers' favorite payment methods. The contactless card payment is always present, but you can also add other methods, like Swish or Buy now, pay later alternatives.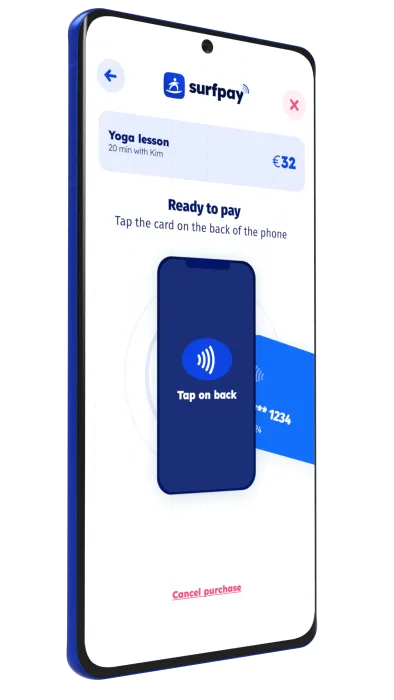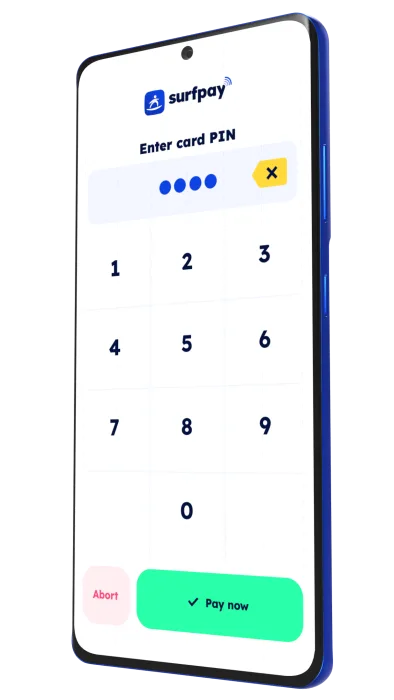 Contactless card payments
Making use of the NFC chip in your Android device, our PCI-certified Surfpay app allows you to accept contactless card payments from physical cards or eWallets like ApplePay or GooglePay.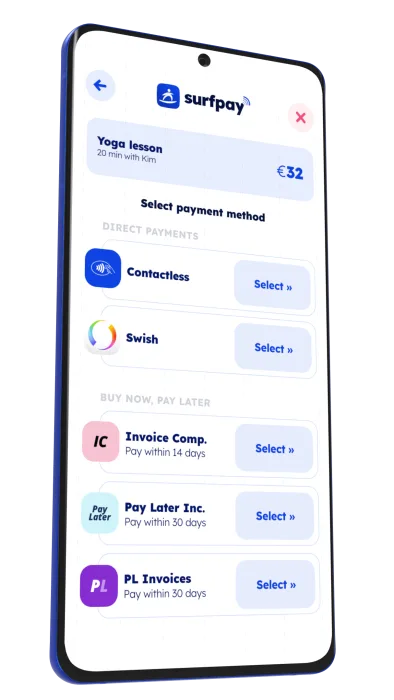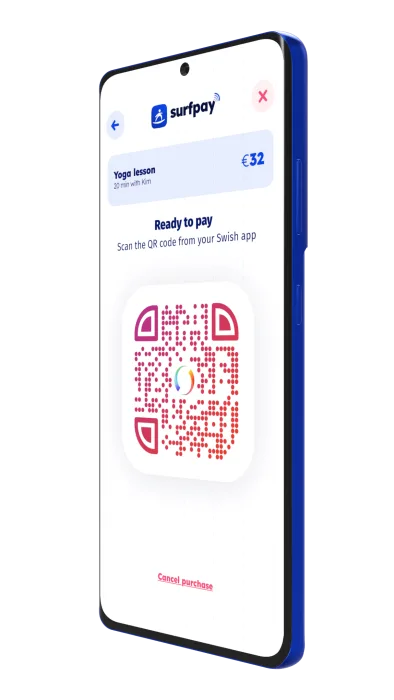 Add other payment methods
Do not limit yourself and your store to only accepting cards. Add local payment methods that your customers love. Every method is easy to add to your checkout from within the app, so no messy integrations are required.
The Overview
Surfpay transforms your device into an app-only payment terminal with the new Tap on Phone technology. Accept contactless card payments, add other payment methods, and get full insight into your sales, everything at your fingertips with Surfpay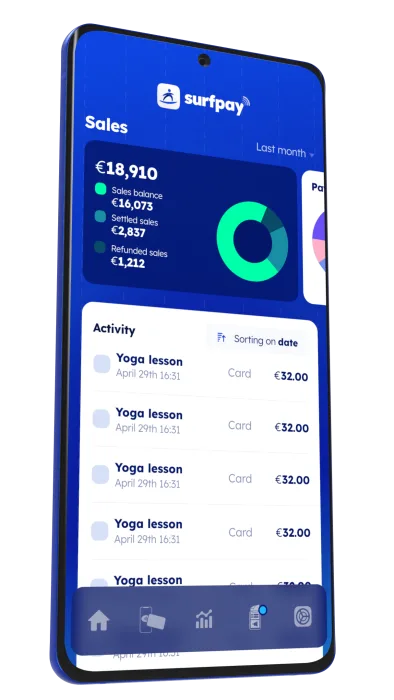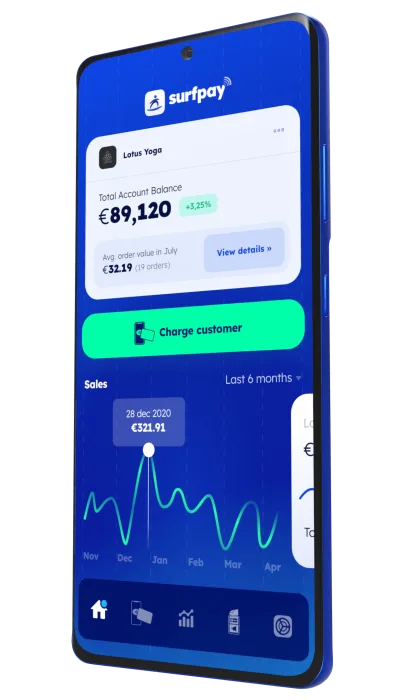 Full overview
Track all of your sales in an easy-to-understand dashboard including all the data you'll ever need. See day-to-day comparisons, monthly updates and get all of that time-consuming datasheet work out-of-the-box with the Surfpay app.
The Slip
No need for a printer, give your customers the card slip digitally and leverage on the tech by adding campaigns to it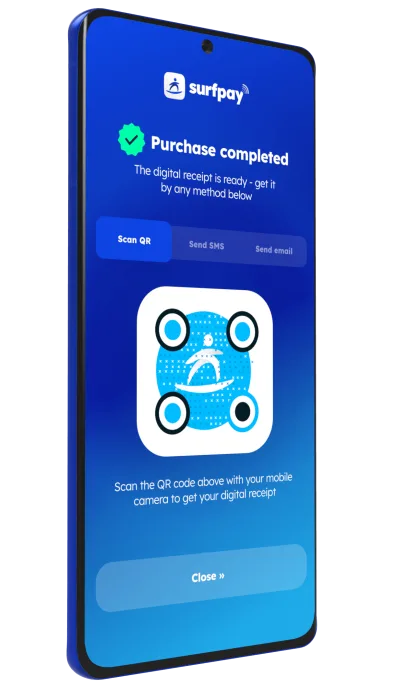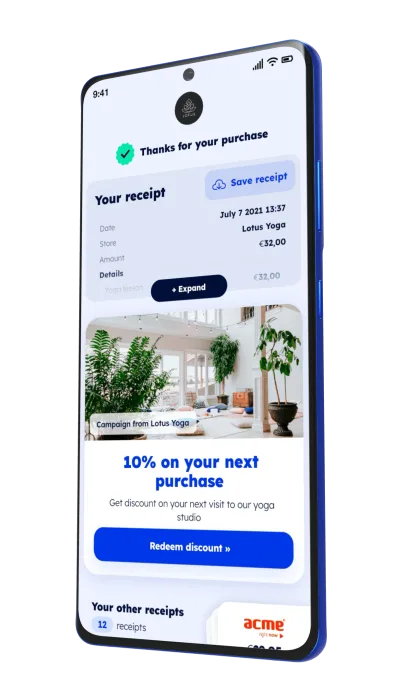 Good for you and the environment
Rock-digitial-scissors
Are you having trouble connecting the printer or running out of paper? No worries, you'll never run out of pixels. Have your customers scan the QR code after a successful transaction, or send them the link via SMS or email. Set up campaigns on the slip and convert your customers from visitors to loyal and returning members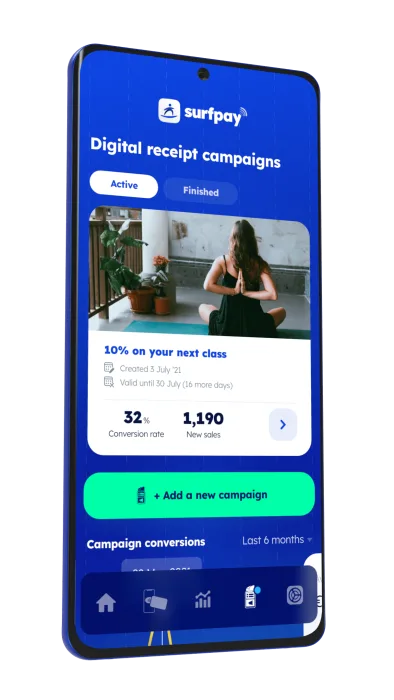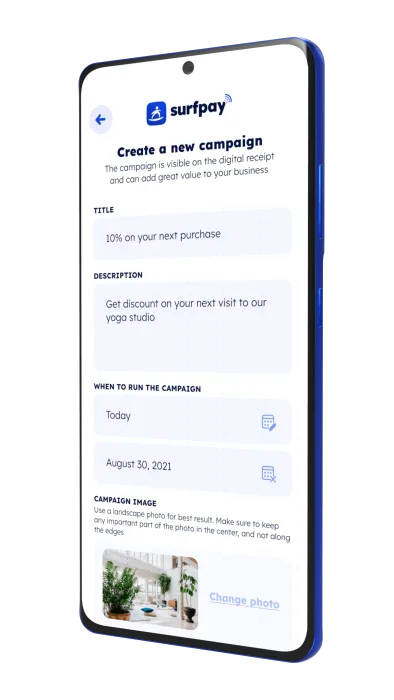 Run campaigns
Turn your customers into loyal members by setting up campaigns and giving them offers they can't refuse, directly on the slip. That way, you can keep in touch with your customers even after they've left the building.
The Onboarding
The onboarding and KYC are silky smooth, just like riding a wave. Don't worry about having to scan papers, wait weeks for responses, and running into trouble.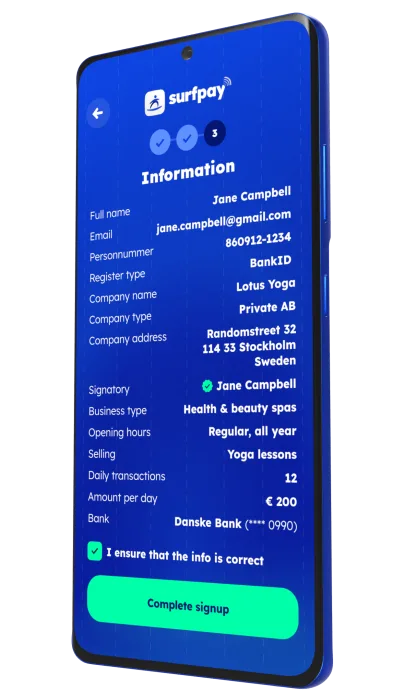 Easy onboarding
You might have bad experiences from doing a KYC. It's cumbersome and often very slow with a lot of manual processes. This is different. We put a lot of effort into making our onboarding a great experience for you as a merchant. You just add your company and answer a few questions about it. Not harder than that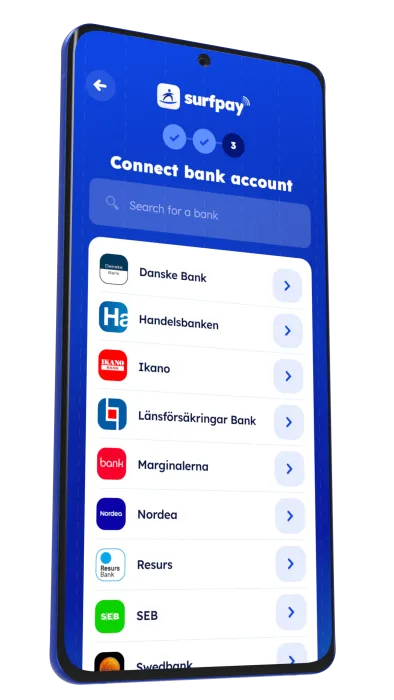 Connect to your bank account
Get your money to your company account at any bank without any hassle. Connect it from the Surfpay app and let the money start flowing from your current smartphone (or new payment terminal, it's up to you what to call it) to your current bank account.
Surfpay is coming soon at full scale
Sign up to our waiting list
Surfpay is currently available for early access to selected merchants. We have just conducted the first fully EMV-certified Tap on Phone transaction in Europe.