5 Ways the Surfpay App Can Improve Your Business
Read it in 3 minutes
Surfpay is revolutionizing the way small business owners accept transactions. Paving the way for a smarter, easier, and more efficient way to receive payments. But making clunky hardware obsolete, and creating a smoother experience aren't the only benefits to downloading the app. In fact, there are so many other attributes that Surfpay has to offer that could improve your business.
Published December 10, 2021
To gain a better understanding of how Surfpay can improve your business, we've listed just a few of the benefits:
1. Quick Onboarding
Know Your Customer or KYC is notorious for being a long, drawn-out, and rather tedious process, but that's not the case for Surfpay. We have custom-designed our KYC to be as smooth as riding a wave. Instead of wasting your time on scanning papers or waiting weeks for approval and responses our app has made it as easy and efficient as possible. Just add your company, fill in a few questions and then you can start using Surfpay right away. We wanted to create the ultimate user experience so that every micro-merchant or small business owner can start getting paid as soon as possible!
2. Lower Transaction Costs
Payment terminals have a lot of negatives against them. In addition to being ugly and clunky, they're slow and have a tendency of disconnecting to the Wifi making transactions as difficult as possible. But the real kicker, the thing that makes payment terminals so annoying for micro-merchants and small business owners in general is the high transaction fees. The average transaction cost is around 1.85%, but the range can fall under 1 to more than 2% in fees, together with a hardware fee. Surfpay stays at only 1.29% in payment fees, meaning you save more money than ever before. And the payment fee is fixed, meaning it won't become more expensive if your customers pay with a credit card or such.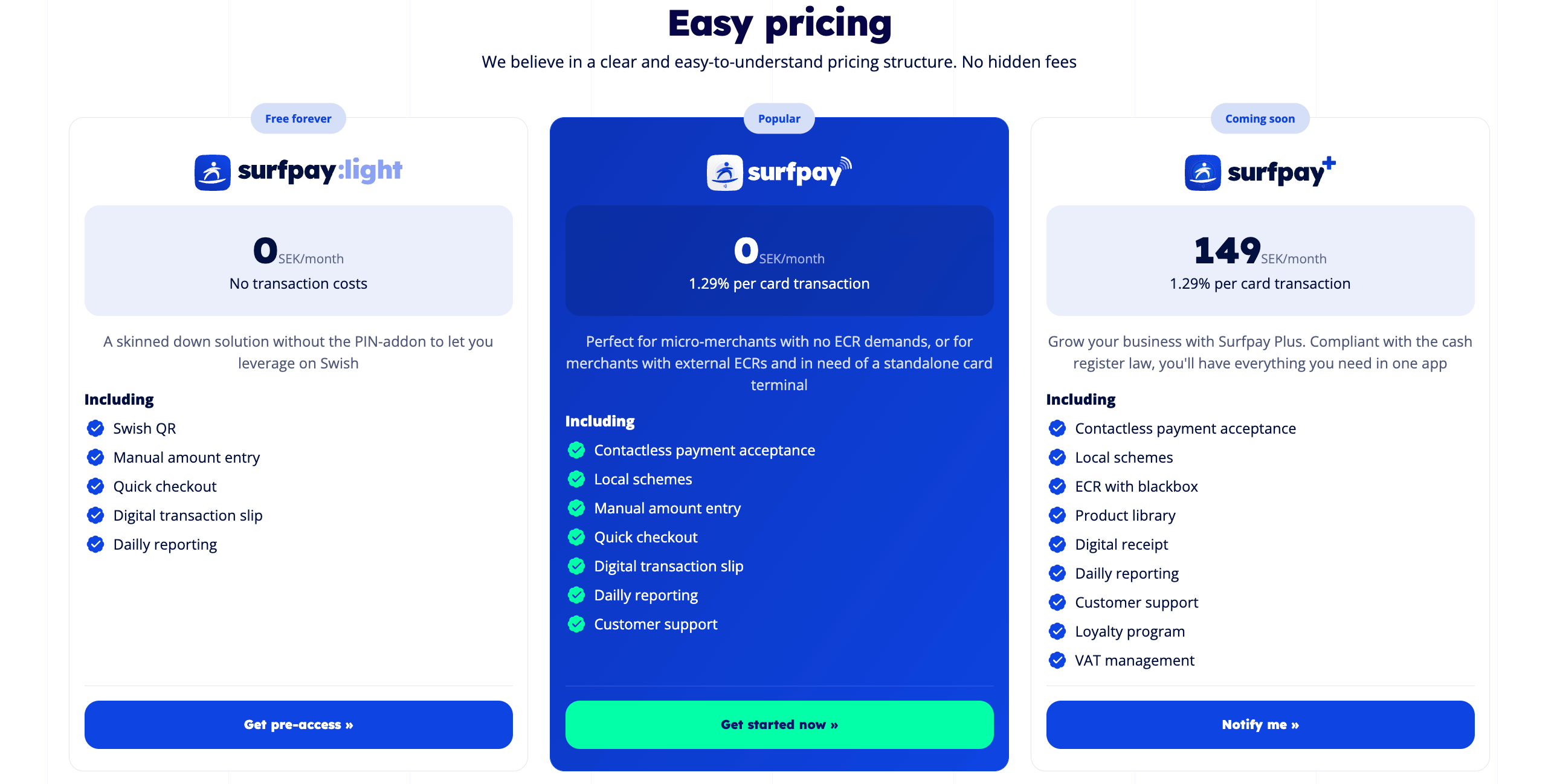 3. No Limits
Payment terminals tend to have restrictions from not allowing you to accept certain payment methods to disallowing e-wallets, it can be quite annoying. Instead of having to use different kinds of methods to accept all transactions, Surfpay is all-in-one covered. Whether your customer wants to use Visa, MasterCard, ApplePay, Swish, or anything else in between, they are accepted on the Surfpay app. Just log in and register the selected payment method beforehand into your account, and suddenly you will be able to accept everything under the sun. This means not missing out just because your terminal doesn't take Swish or another popular payment method in your area.
4. Campaigning
Administering receipts has never been easier. Instead of taking the time to print one out, or waiting for a pesky email to go through, we have automatic QR receipts. Once the transaction has been completed, a QR code will instantaneously pop up on your screen. Have your customers scan, and they will receive their very own digital receipt. And on top of being fast and efficient, the QR receipts are connected to your profile. Meaning that every small business owner can take the opportunity to utilize the digital receipts for optimizing their business. Campaigning is as easy as attaching a promotion to your customer's code, helping you increase retention rates and improve customer loyalty.
5. Full Overview
No need to download a separate program, or analyze all of your data manually, because Surpay has got you covered! The app instantly registers all of your consumer metrics and sales data as it happens in real-time, and then can provide you daily comparisons or monthly updates to let you know how your business is performing. Keep an eye out for your best interest, and allow you to conduct your business in an easier format, which means you can allocate your time to other, more important things!