Surfpay: A payment terminal inside your phone
Read it in 3 minutes
Traditionally you probably recognize the payment terminal as external hardware you had to rent or purchase to your store, to be able to accept card payments from your customers. But those days are gone. Thanks to Tap on Phone, Surfpay makes it possible for you to turn your own smartphone into an app-only payment terminal without any limitations.
Thanks to new regulations from Visa and MasterCard, it's now possible for app-only payment terminal solutions without any limitations on your own phone. These apps allow you as a merchant to accept contactless card payments directly on your smartphone thanks to the NFC-chip inside the phone, without the need to buy and maintain an expensive and bulky point of sale (POS) terminal.
The Surfpay app allows you to accept contactless card payments on any modern Android smartphone. Simply install our app, sign up, choose your preferred payment method and you are ready to receive payments.
Surfpay is a fully-featured payment terminal in your pocket.
What is Tap on Phone?
We wrote
an in-depth article about this subject
for the Surfboard Payments Knowledge hub earlier this year, but to summarize it, it's the name for a contactless card payment on a smartphone through a certified app. It origins from the more technical name CPoC, which stands for Contactless Payments on Commercial-off-the-shelf devices. The CPoC app can be with or without a PIN-on-screen solution, making it either limitless or limited to a certain amount. If the app is certified for PIN-entry, you could use it to sell anything to anyone, whereas if it does not support PIN you could only use it to sell items below a certain price.
Previously, it was not allowed to use a touchscreen for PIN-entry, but due to the latest regulations from PCI and the biggest card brands, that solution is now granted. This har ultimately led to the big possibility of creating an app that can accept contactless card payments on a smartphone device.
How do I get started?
Firstly, you need to find which app you are going to use. Just like when it comes to the traditional payment terminals, the price might vary depending on which one you choose and how much you sell for. Often, there is a fixed subscription fee each month, and a transactional fee on top of that. Make sure to do your research to find the best one for your business. If you are interested in what we are offering, you can take a look at our
pricing page »
After you have chosen your supplier, you follow their provided steps. For Surfpay, the steps are provided in
this article »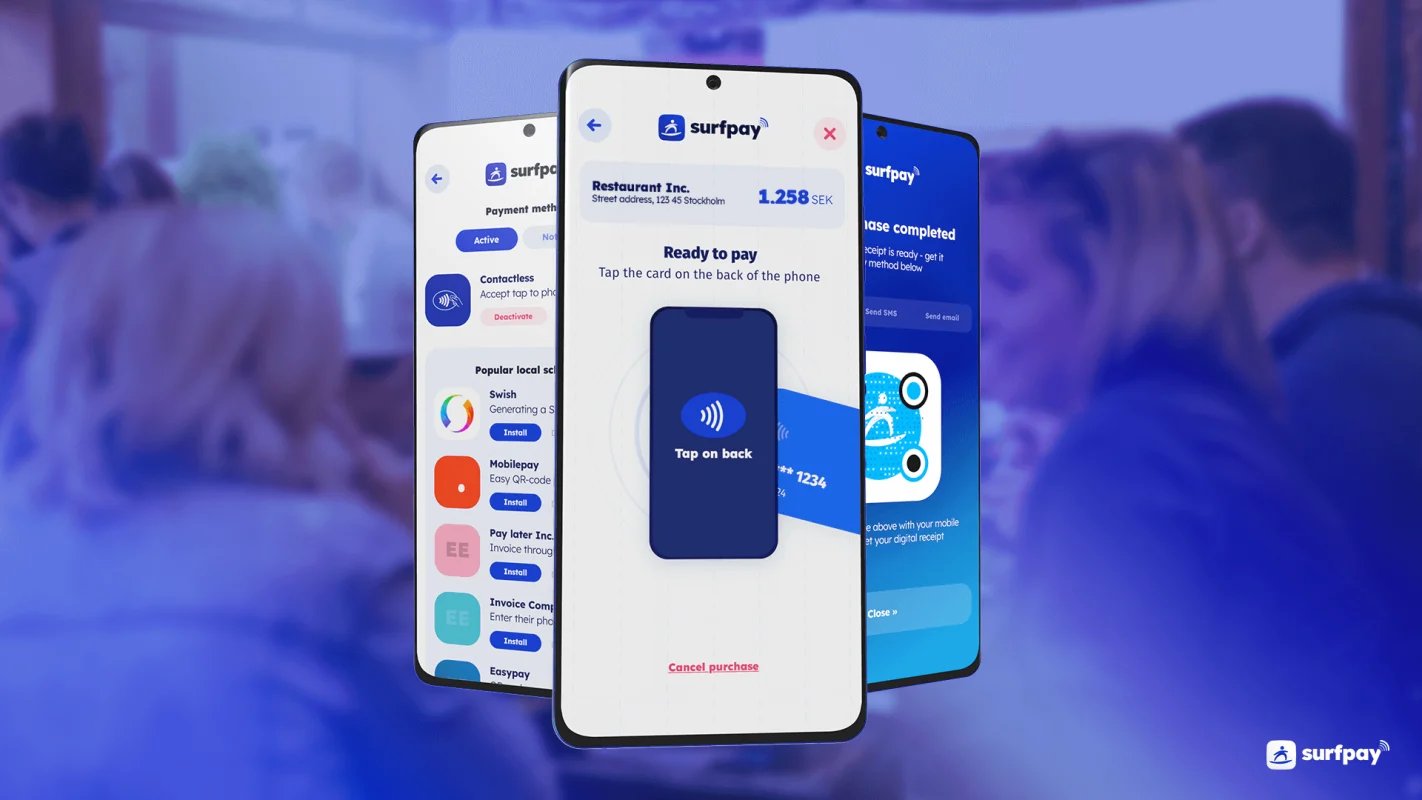 How can Surfpay enhance your business?
Hopefully, in many ways. Firstly, the use of Surfpay allows you to cancel all current subscriptions and fees to your current payment terminal provider, and simply just download an app. If you are a small business that has not yet started accepting card payments, this step is of course monumental. To be able to afford a payment terminal has not always been the case for all businesses, and with the cashless society becoming more and more noticeably, this offering can be the difference between growing or closing your business.
For all of those currently using a payment terminal, this opens up even more opportunities in how you accept payments. Since the solution is a smartphone application, we can make use of the digital screen and the smartphone computer power by adding the opportunity to
install multiple payment options
without the merchant having to make any integrations. Instead, we can provide the integrations out-of-the-box with the merchant only having to tap a button inside the app to unlock, for example,
Swish
and other relevant payment methods. The method will then generate a dynamic QR-code on the screen during purchase, so the customer can scan it from the Swish-app, without having to enter the amount themselves or showing the merchant that the payment is actually processed on their end. This replaces all printed A4 papers with a non-digital Swish QR-code where the customers' app and the merchants' terminal don't speak to each other.
Furthermore, the app-only solution allows the merchant to get rid of their old printers for the payment slip since it can be provided digitally directly to the customer. Either by the merchant texting or emailing the link directly from the Surfpay app or by the customer scanning the QR-code appearing at the
"thank you"
-screen in the Surfpay app.
This is a bit about how your business can thrive thanks to the acceptance feature in the Surfpay app, turning your smartphone into a payment terminal. But there is more to the app than just that. The Surfpay app also provides you with data and insights from all purchases, exports it to your other systems, and adapts to your business in no time. But more on that in another article.