How to Accept Card Payments Without a Payment Terminal
Read it in 3 minutes
Have you ever wondered how to accept card payments on your smartphone? Surfpay allows you to accept contactless card payments on your smartphone, without the need for any extra hardware or a traditional card machine.
Accepting card payments has become a key part of running a business. The majority of your customers will prefer to use a card to pay for their goods and services. However, if you don't have a payment terminal, you may have found yourself wondering how you can accept card payments. Luckily, there is now a solution to accepting card payments without a payment terminal, through a piece of software called Surfpay. Surfpay is an app that allows you to accept card payments on your smartphone. It's a quick and easy way to accept payments, and you don't need a payment terminal to use it.
Why contactless?
Contactless payments are the way of the future. They're convenient and secure, and we can see them taking over from cash and older card payments in the very near future. The technology is already in place in most shops and supermarkets, and it's something that we're going to see a lot more of in the coming years. If you're looking to take payments in your business, you should consider accepting contactless payments. Contactless payments include not only a classic plastic card, but also digital cards like Apple Pay, Google Pay, and Samsung Pay.
Contactless payments are growing in popularity for a number of reasons, but the most obvious reason is speed. Contactless payments take a matter of seconds, compared to a traditional card payment that can take a few minutes. Contactless payments are also a more convenient way of paying because in a lot of cases you do not have to enter your pin number.
How does it work?
Surfpay is a mobile payment solution that allows merchants to accept card payments on their mobile devices. It works by using the NFC chip in your mobile device to emulate the card terminal. This means you can accept card payments with your smartphone, without the need for any extra hardware.
It all started with PCI updating their standards, enabling PIN on Glass to be accepted as an authentication method. Thanks to that, the need for a physical PIN pad in a card terminal became redundant, opening up the opportunity for creating an app-only solution for smartphones. This means that the smartphone app can process contactless card payments without any limitations. What this also means is that the same app can implement functionalities like other payment methods, dashboard view of transactions, digital receipts, and much more. So for any small-, or micro-merchant, this solution becomes a game-changer. Instead of putting their hard-earned money into an expensive and old terminal, they can just download an app, go through the onboarding process and become ready to accept card payments - within minutes! To learn more about how Surfpay works, take a look at this article »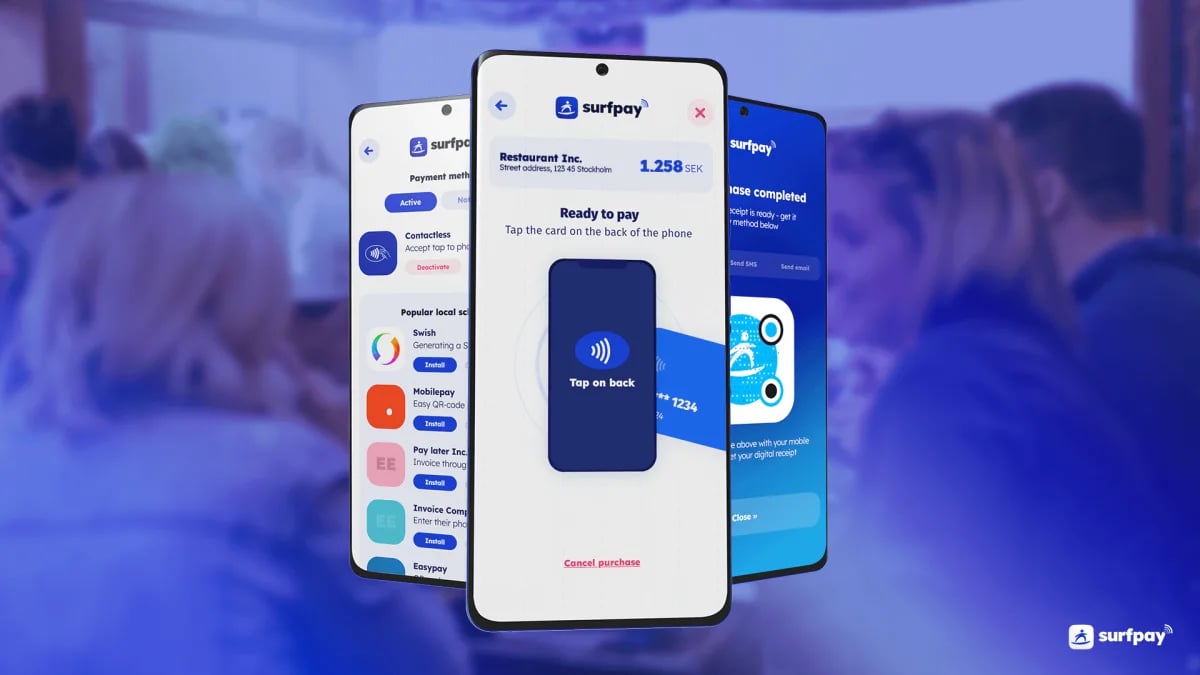 What are the disadvantages?
This sounds like the best thing since sliced bread, doesn't it? We think so, too! But there are of course disadvantages that we need to bring up. The biggest one is the lack of a chip or swipe acceptance of the card. Since the smartphone accepts the card payment through the contactless-enabled Near Field Communication (NFC), the older card payment methods including a dip of a chip, or swipe of a magnetic stripe are no longer possible for the merchant.
But don't worry, there is a solution for that as well. You could either add a Bluetooth-connected dongle that has the possibility of accepting those methods, or you could offer the customer another payment method if their card does not support contactless payments. It could be an invoice, direct payment, account-to-account, or any other payment method that is relevant in your area of business. It's easier than ever before to add multiple payment methods thanks to the payment terminal being an app inside your phone. That makes an app-only solution like Surfpay ideal for small businesses who want to accept contactless card payments on their smartphone without any extra hardware, making it more cost-effective and easier to get started.
In conclusion
Giving your customers the ability to pay you for your products and services in multiple ways is essential for keeping your business alive in this modern era. We hope this blog has given you an insight into how you can accept card payments using your smartphone. Surfpay is the ultimate all-in-one smartphone payment solution.
To find out more and get articles like this, sign up for the newsletter below